"Proskribe Services has met our expectations. The quick turnaround time and friendly service can't be beaten. It has been a pleasure to do business with them.
WMC
We are quite happy to be associated with Proskribe Services. No doubt, they are our best business partners."
DMT

The healthcare environment today faces challenges that it has never seen before. The industry is under attack from every possible direction from cost containment, HIPAA (Health Insurance Portability & Accountability Act) compliance, lack of stability to an uncertain future. After trying various managed care techniques and concepts the onus to contain costs is now on the healthcare consumer.
More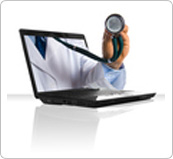 Proskribe Services, The One-point destination for US Healthcare requirements. At Proskribe Services, we understand the value of time for each and every client that we service. We work hand-in-hand with you to evaluate resources, timing, and cost issues to develop and implement a service program that will best fit your business objectives. Your satisfaction is our success.

With the ongoing trends of information technology, where change is an obsession, time a limited commodity, and quality the hallmark of every business, we strive and stand a flowing stream creating our own path and letting others follow in the service of healthcare providers. In this metamorphose environment of the business scenario, Proskribe Services is creating impressions on the sands of time, with the latest information technology. We believe it is imperative on our part to employ our professionalism and savoir-faire to develop and implement solutions in this field.
Our matchless services will allow the healthcare providers to have more free time for actual healthcare and also relieve them from labor shortages.
More